ERC Mini SDX is an assembled PC board for use with Yaesu -SDX series rotators. PC board installs inside -SDX rotator control box and is connected to your shack PC via an included USB cable.
Included with ERC Mini SDX are:
Assembled and tested PC board
USB cable. Unit is powered +5 VDC from USB port. Does not require 12VDC power.
Software calibration tool for Windows XP/Vista/7/8/10 32 and 64 bit
ERC rotator control software for Windows XP/Vista/7/8/10 32 and 64 bit
SPECIFICATIONS
PC board size : 2.63 x 1.48 inches (67 x 37.5 mm)

Supply voltage : 5VDC via USB, max 10 mA

Operating temperature : 0 to 70° C

Software driven calibration

Full support for rotators with overlap up to 180°

Security stop, if the rotator does not move

Relay circuits:

CW/CCW : each 2xON/OFF (DPDT) max 50VAC/3A or 30VDC/2.5A

AUX : 1xON (SPST) max. 250VAC at 3A

Communication port: USB (FTDI-chip), Baud rate configurable 4800-9600

ERC Mini SDX is compatible to a subset of the following protocols:

Firmware supported features

Delay before rotator starts moving

Programmable end stops

Antenna offset

Support of overlap up to 180 degrees

Speed function
Like other ERC products, the included control software can be used stand-alone or interfaced to many popular transceiver control and logging programs. Install the included software calibration tool to automatically calibrate and configure your rotator. Open the ERC software, and start turning the rotator!
Compare the ERC Mini SDX with a competing Idiom Press product:
| | | |
| --- | --- | --- |
| | ERC Mini SDX | Idiom Press RotorCard for Yaesu SDX series rotators |
| Interfaces to popular rig control and logging programs | Yes | No |
| Direct USB control | Yes | No |
| Calibration software included | Yes | No |
| Assembled price | $109.00 | $142.95 |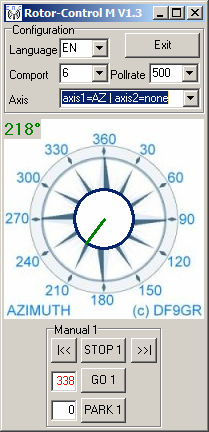 Standard screen graphic for ERC control software. To turn the rotator, mouse over any spot on the circular azimuth indicator, click, and the rotator will start turning. For small adjustments, clicking on the << or >> button moves the rotator the same way physically pushing the buttons on the front of the rotator control box would. A specific target point can be typed into the box next to the GO 1 button. In the example shown, 338 degrees is the target - click on GO 1 and the rotator will move to 338. Rotation can be canceled at any time by clicking STOP 1. A parking position for the rotator can be programmed into the PARK 1 box. Very easy to use!
Click here to read the ERC Mini DX and ERC Mini SDX manual
Click here to read the list of supported third-party logging and control software