THIS ITEM IS DISCONTINUED AND NO LONGER AVAILABLE.
The YouKits HB-1A MK2 QRP CW transceiver is a 2 band 20m/40m CW transceiver, sold fully assembled and ready to use.
Transmits on the 7 and 14 MHz amateur bands. RX from 5-16 MHz continuous.
4W output power at 12 Vdc. 5W output at 13.8 Vdc. Supply voltage input 9-14 Vdc.
Receive current draw 80-90 mA. Transmit current draw 900 mA @ 13.8 Vdc
Internal lithium rechargeable battery with charging cable
Full break-in CW operation
Adjustable CW filter 400 Hz-3 kHz
Internal CW keyer
Measures only 5 3/4 x 3 3/4 x 1 7/16 inches, not including knobs.
$239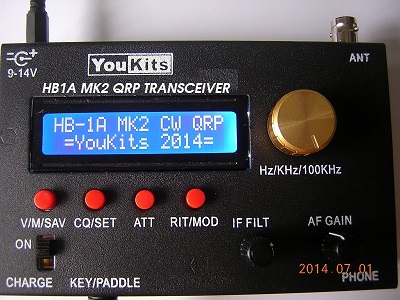 Tennessee red oak rig stand with satin lacquer finish is available as an accessory. This rig stand is appropriately sized to allow you to prop up the radio hands-free. Clearance underneath for charger and key paddle plugs. $39. Fits YouKits HB1B and HB1A transceivers.